WTV to MP4 Converter

Download

Last Updated:2010-04-10
---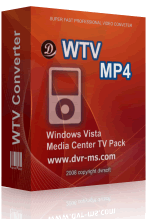 WTV to MP4 Converteris a easy-to-use video converter for converting WTV format to MP4 video can be played in iPAD,iPod,iPod touch,iPhone,PSP and PC. Batch conversion make it convenient and rapidly. It output high quality video, compress 1080p/720p dvr-ms files to MP4 files, save lot of space to store your TV Show on hard driver.
Everybody can use this software with ease as well as enjoying the fast speed and best video quality!
Key feature
One-Click converter.
Batch convert WTV files.
Output high quality video.
Compress wtv files to MP4 files, save Hard Disk space.
Support 1080p and 720p
Convert video to MP4, play on PC
Convert video for Iphone
convert your faverite TV Show to MP4 format for playing on Iphone.
Convert video for iPad itouch iPod
convert your faverite TV Show to MP4 format for playing on iPod/iPod touch.
Convert video for PSP
convert your faverite TV Show to player on PSP
MPEG-4
MPEG-4 Part 14, formally ISO/IEC 14496-14:2003, is a multimedia container format standard specified as a part of MPEG-4. It is most commonly used to store digital video and digital audio streams, especially those defined by MPEG, but can also be used to store other data such as subtitles and still images. Like most modern container formats, MPEG-4 Part 14 allows streaming over the Internet. A separate hint track is used to include streaming information in the file. The official filename extension for MPEG-4 Part 14 files is .mp4, thus the container format is often referred to simply as MP4.
The existence of two different file extensions for naming audio-only MP4 files has been a source of confusion among users and multimedia playback software. Since MPEG-4 Part 14 is a container format, MPEG-4 files may contain any number of audio, video, and even subtitle streams, making it impossible to determine the type of streams in an MPEG-4 file based on its filename extension alone. In response, Apple Inc. started using and popularizing the .m4a file extension. Software capable of audio/video playback should recognize files with either .m4a or .mp4 file extensions, as would be expected, as there are no file format differences between the two. Most software capable of creating MPEG-4 audio will allow the user to choose the filename extension of the created MPEG-4 files.
While the only official file extension defined by the standard is .mp4, various file extensions are commonly used to indicate intended content:
MPEG-4 files with audio and video generally use the standard .mp4 extension.
Audio-only MPEG-4 files generally have a .m4a extension. This is especially true of non-protected content.

MPEG-4 files with audio streams encrypted by FairPlay Digital Rights Management as sold through the iTunes Store use the .m4p extension. iTunes Plus tracks are unencrypted and use .m4a accordingly.
Audio book and podcast files, which also contain metadata including chapter markers, images, and hyperlinks, can use the extension .m4a, but more commonly use the .m4b extension. An .m4a audio file cannot "bookmark" (remember the last listening spot), whereas .m4b extension files can.
The Apple iPhone uses MPEG-4 audio for its ringtones but uses the .m4r extension rather than the .m4a extension.

Raw MPEG-4 Visual bitstreams are named .m4v but this extension is also sometimes used for video in MP4 container format.
Mobile phones use 3GP, an implementation of MPEG-4 Part 12 (a.k.a MPEG-4/JPEG2000 ISO Base Media file format), similar to MP4. It uses .3gp and .3g2 extensions. These files also store non-MPEG-4 data (H.263, AMR, TX3G).
The common but non-standard use of the extensions .m4a and .m4v is due to the popularity of Apple's iPod, iPhone, and iTunes Store. With modification, Nintendo's DSi and Sony's PSP can also play M4A.