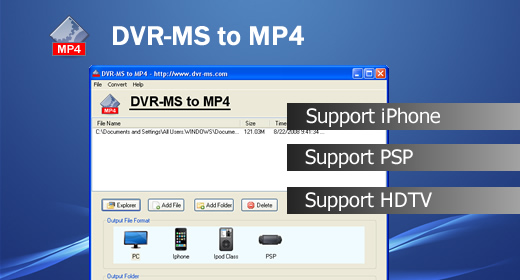 DVR-MS to MP4 Converter
DVR-MS to MP4 Converteris a easy-to-use video converter for converting DVR-MS format to MP4 video can be played in iPod,iPod touch,iPhone,PSP and PC. Batch conversion make it convenient and rapidly. It output high quality video, compress 1080p/720p dvr-ms files to MP4 files, save lot of space to store your TV Show on hard driver.
Everybody can use this software with ease as well as enjoying the fast speed and best video quality!
Key feature
One-Click converter.
Batch convert DVR-MS files.
Output high quality video.
Compress dvr-ms files to MP4 files, save Hard Disk space.
Support 1080p and 720p
Convert video to MP4, play on PC
Convert video for Iphone
convert your faverite TV Show to MP4 format for playing on Iphone.
Convert video for iPod
convert your faverite TV Show to MP4 format for playing on iPod/iPod touch.
Convert video for PSP
convert your faverite TV Show to player on PSP